Gallery of Small Scale
With a little help from my friends.....
IGMA School in Castine, Maine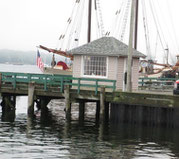 Each year, the International Guild of Miniature Artisans hosts Guild School in Castine. Students explore a variety of projects and learn new skills from some of the world's best miniature artisans.  It's a week chock-full of learning and doing, and even a bit of shopping.  The Lobstah doesn't hurt, either.  
Blog: Work-in-Progress and How-To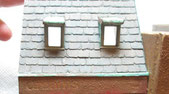 Every project provides unique challenges and opportunities to learn from mistakes--both the ones we make and the ones we don't!  For a peek at my projects and the occasional tutorial, visit my blog.

Store: Small scale dollhouse miniatures
Nothing is for sale at the moment, but occasionally I will offer one-off (or two-off) items for sale.  Soon you will be able to find my 1/144 unpainted fireplaces here.
What's New?
A Quarter Scale Challenge
Scale is something that can be hard to grasp--until you visually compare the same item in different scales.  A quarter-inch scale chair will be one-fourth the height of a classic twelfth-scale dollhouse chair.  But it looks smaller, because it is one-fourth the size in all dimensions.  So it has 1/16th the area--the visual mass--of the larger chair.  A 1/144th scale chair is one-third the height of a quarter-inch scale chair, but it looks smaller--more like one-ninth the size!  To see how I made the quarter-inch scale-chair in the photo, visit my blog!

Welcome to some like it small!
My approach to developing a small scale interior is to use everything I can find, work with, or create, to present an interior that has the feel, complexity, and textures of life. Small scale affords an almost limitless opportunity to experiment with every material that a miniaturist might use.
I love natural materials too much not to bring them into my interiors. 
Even small scale can take advantage of the richness and tactile qualities of the different woods that are available.  In my interiors you will find maple, walnut, cherry, bubinga, ebony, tulipwood, pear, boxwood, rosewood, and many other woods, including burls. 
Nothing quite matches the touch of fabric and its cousins.  Enjoy the drape of a fine silk, the almost weightless feel of thin skiver, the coolness of ermine, the three dimensional look of needlepoint.
"Repurposing" expands the frontiers of small scale. Keep an eye out for evidence of our technology-rich consumer culture.  Without beads, etched brass, watch parts, pins, styrene shapes, and other objects made both for miniaturists and for other purposes, small scale interiors would be much less interesting.
Come and explore!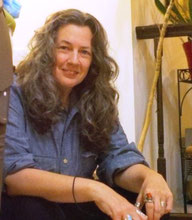 Fran Sussman, IGMA Artisan